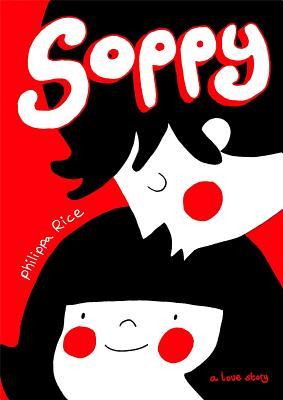 Soppy: A Love Story
, by Philippa Rice
Release Date:
December 2nd, 2014
Hardcover and Ebook
Andrews McMeel Publishing
Find it on:
Goodreads
-
Amazon
Summary:
True love isn't always about the big romantic gestures.
Sometimes it's about sympathising with someone whose tea has gone cold, watching TV and sharing a quilt, or allowing your partner to order take-away pizza again. When two people move in together, it soon becomes apparent that the little things mean an awful lot. The throwaway moments in life become meaningful when you spend them in the company of someone you love.
Soppy is Philippa Rice's collection of comics based on real-life moments with her boyfriend. From grocery shopping to silly arguments and snuggling in front of the television, Soppy captures the universal experience of sharing a life together.
What I thought about Soppy:
Philippa Rice has created a beautiful story, a collection of moments, in simple yet captivating drawings and using only 3 colours. I truly love minimalistic designs and hers were adorable.
I had no idea this was a compilation of the work she'd posted online on her Tumblr. I'm new to her art and I will definitely google her and check out more of her work.
Soppy's made of little stories that are threaded together by these two very relatable characters: She's an artist... so is He. They love tea and biscuits and have little arguments about whose turn it is to make it this time. They fight over insignificant things and make up over chocolate and vainilla milkshakes. They love books and sleeping on top of each other. Things that make a couple be real and function on and off the page.
This book is a fast read, but you'll definitely go back to its pages and take a better look at the lines and shapes and see how this doodle-like drawings come to life again in your mind.

You don't want to miss this one.